What Conditions and Injuries Do Our Jacksonville Chiropractors Treat?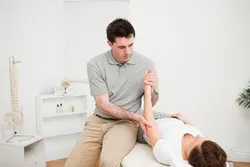 Chiropractic physicians take the initial steps in order to correct your back pain by using spinal adjustments, in-office massages, electrical muscle stimulation, spinal traction, rehab exercises, stretches and ultrasound. Chiropractors specialize in treating hundreds of conditions that are related to the spine and body.
Some of these conditions include:
Sports Injuries
Whiplash/Auto Accident Injury
Herniated Disc
Migraines/Headaches
Sciatica
and more
Low Back Pain & Neck Pain
There are several different types of back/neck pain that can be treated by chiropractors. The most common types are acute neck/back pain and chronic neck/back pain. There are temporary solutions for treating back and neck pain, such as cold/heat pads and over the counter drugs. However, these temporary remedies do not focus on the underlying issue. This is where chiropractic physicians step in with their advanced knowledge of the body and spine to create a treatment plan perfect for you.
Auto Accident Injuries
Car accident injuries can cause long-term pain to your body if not treated. The human body is not made to withstand the impact of a car accident. Depending on your body, the reaction to the impact will vary depending on the severity. Many times people will not see any visible injuries and think that they are fine. However, mild injuries can lead to long term pain. Chiropractors recommend immediate evaluation and treatment to prevent any further damage to the spine.
Herniated Disc (or "Slipped Disc")
A herniated disc is a very common spinal injury that thousands of people suffer from. Many people with this condition don't feel pain until the condition ends up pinching a nerve in the spine. Depending on the location of the herniated disc, it can cause excruciating pain and loss of range of motion. Other common symptoms include:
Back Pain
Neck Pain
Leg Pain
Arm Pain
Stiffness
Tenderness of the spine
Once your doctor has confirmed that it is a herniated disc, he will create a treatment plan for you which usually includes: disc decompression, gentle spinal adjustments, exercises and other forms of alternative medicine.
Migraines & Headaches
It is believed, in most human beings, that your genetics can play a role in who will be diagnosed with migraine headaches. Migraines are often intense, throbbing pains. Chiropractic can help reduce the pain intensity and frequency of headache pain by treating the cervical spine. Adjusting the cervical spinal bones, especially the upper cervical regions, will ensure proper joint function, nerve communication and muscle tone.
Sciatica
Sciatica is a condition in which pain stems from irritation, compression or injury of the sciatic nerve. This is a thick band that is formed from several individual nerve roots from the lower back. The sciatic nerve travels through your lower back, hips, buttocks and down the leg. Sciatica is when the nerve sends pain signals to the brain and you may feel pain travel down into the thigh or even into the calf or foot. Chiropractic adjustments relieve pressure on the nerves and promote over spinal health. If you do think you have Sciatica, some symptoms may include:
Sharp shooting pain along the sciatic nerve
Numbness in your leg
Pain while standing
Anxiety
Pain concentrated on only one side of your lower body
Sports Injuries
Sports injuries occur pretty often with athletes. As with anyone, we all want to have a healthy lifestyle and feel good! However, sports participation can lead to strains, sprains, and stress on most parts of the body. Depending on what sport you play, the injuries will differ. Common injuries include:
Back & Neck injuries
Knee injuries
Spinal misalignments
Elbow pain such as tennis elbow
Shoulder pain
Muscle Strains
Our Chiropractic Physician, Dr. Vesce, has extensive knowledge in this area of work. He has been providing treatment and natural pain relief to athletes in Jacksonville, FL. Our highly experienced team here at Integrative Healthcare Solutions provides many different treatment options for sports injuries. If you are experiencing any of these conditions, please contact our office here at Integrative Healthcare Solutions at (904) 372-0623.
Dr. Vesce will work with you to create the perfect treatment plan and guide you in the right direction for long lasting spinal health.