Your Medical & Chiropractor Team in Jacksonville, FL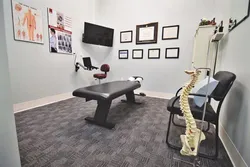 Welcome to Integrative Healthcare Solutions! I'm Dr. Edgar Vesce and thank you for taking time to visit my website. I have been practicing since 2005 and started this office in 2009.
I began with a specific vision of helping as many people in the Jacksonville, FL community as possible providing the best care and utilizing the latest state of the art equipment.
Our office helps people recover from many different types of neuro-musculo-skeletal conditions. The most common that we see on a daily basis are headaches, auto accident injuries, neck and back pain, sciatica, disc injuries, muscle spasms, pinched nerves and extremity pain.
Please take some time to check our Facebook page for tips and information as well as our Google Plus page to read our patients' reviews. My staff and I look forward to giving you the attention you deserve and the best care you need to achieve the results you want! Welcome to my practice with a purpose!
What Makes Us Different
Our office is unique in that it is a multi-disciplinary clinic that offers medical, chiropractic care, physical therapy, injury rehabilitation, massage therapy and disc decompression. What make us different is that we are an Outpatient Rehabilitation Facility that is certified through Medicare, also known as an ORF. This means we abide by strict mandates of documentation, patient care, office cleanliness and patient safety.
Our Philosophy

Our approach is simple. We believe that health is amongst our most valuable possessions. And while we generally meet people after they've lost their health, our commitment is two-fold.
1. Relief Care in Jacksonville, FL
People in Jacksonville, FL seeking care in our practice all have one goal in common: relief. So that's where we start! During this initial stage of intensive care, we have several obligations:
Uncover the underlying cause of the health problem
Suggest a care plan to produce the fastest results possible
Offer ways patients can participate in their recovery
Explain the value of post-symptomatic wellness care
2. Wellness Care
We're committed to teaching our patients that true health is a journey, not a destination. Through educational opportunities (like this website), we hope to communicate the value of ongoing massage therapy, exercises and chiropractic treatment. Our desire is to see our practice members abandon the prevailing sickness care model of health (waiting for symptoms and then taking action), in favor of the emerging wellness model.

3. You're the Boss
Regardless of your health goals, please understand that we see ourselves as mere servants. You're the boss! It's your body, your health and your future. Our job is to offer you the finest medical, therapy and chiropractic care in Jacksonville, FL and make the appropriate recommendations to help you achieve your goals.
Take the first step towards relief by calling one of the leading chiropractors in Jacksonville, FL today!