Natural Back Pain Treatment in Jacksonville

Experts say that about 80% of the population in the world will experience back pain at least once in their lifetime. In fact, here in America just about 31 million of us experience low back pain. Low back pain is the single-leading cause of disability worldwide!
The most common causes of back pain include: slipped and herniated disc, ligament sprains, pinched nerves/sciatica, and muscle/tendon pulls.
If you need relief from lower, mid, or upper back pain, we're here to help. Our leading Jacksonville chiropractor, Dr. Vesce, has helped patients throughout South Florida with all types of back issues. Whether it's severe lower back pain or minor discomfort in the mid back section, Jacksonville Beach Health is here to provide relief.
Are You Experiencing Low Back Pain Symptoms?
Unfortunately, for most of us, back pain may be a part of our everyday life. The pain can take on many different forms and can be described as a
sharp stabbing pain
a dull ache
stiffness or a tingling
numbness or burning sensation
You may also feel weakness, pain, or tingling in your which is a condition known as sciatica. Some painful symptoms may go away within a day or two and the pain subsides. Some pain may continue depending on how bad the injury was that occurred.
Causes of Back Pain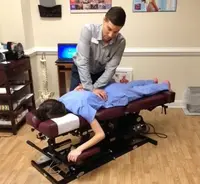 While back pain can be caused by serious, debilitating conditions, back pain is typically caused by an injury to the discs, vertebrae, ligaments, tendons or muscles.
The most common causes of back pain include, slipped, herniated or ruptured discs, muscle pulls, tendon strains, sciatica, being overweight, having weak core muscles and not maintaining proper posture while sitting and standing. Also, back pain can be caused by serious conditions such as a car accident or slip and fall injury.
Jacksonville Chiropractic Treatment for Back Pain
Chiropractic care is a safe, conservative, non-invasive form of treatment for back pain, and it's considerably cost effective when compared to other traditional forms of treatment. Back pain treatment typically starts with chiropractic adjustments for pain relief and to lower reliance on potentially habit-forming prescription pain pills. In addition, we implement corrective back pain exercises to help you recover faster.
Get long-term back pain relief in Jacksonville, FL by calling our office today at (904) 372-0623. Help is here.