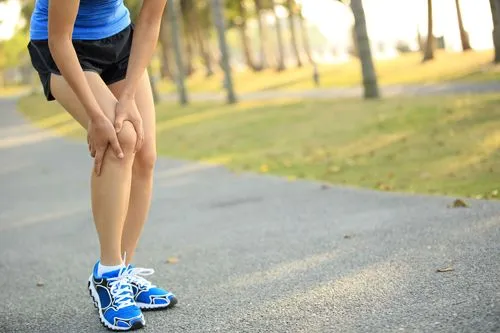 What is patellofemoral pain syndrome?
Patellofemoral pain syndrome is pain behind the kneecap. It has been given many names, including patellofemoral disorder, patellar malalignment, runner's knee, and chondromalacia.
How does it occur?
Runner's Knee can occur from overuse of the knee in sports and activities such as running, walking, jumping, or bicycling.
Runner's Knee also may result from the way your hips, legs, knees, or feet are aligned. This alignment problem can be caused by your having wide hips or underdeveloped thigh muscles, being knock-kneed, having subluxations or having feet with arches that collapse when walking or running (a condition called over-pronation).
What are the symptoms?
The main symptom is pain behind the kneecap. You may have pain when you walk, run, or sit for a long time. The pain is generally worse when walking downhill or down stairs. Your knee may swell at times. You may feel or hear snapping, popping, or grinding in the knee.
Treatment:
Place an ice pack on your knee for 15 to 20 minutes every 3 to 4 hours for the first 2 to 3 days or until the pain goes away
Elevate your knee by placing a pillow underneath your leg when your knee hurts.
Do the exercises recommended by your health care provider or physical therapist.
Your health care provider may recommend that you:
Correct misalignments
Wear shoe inserts (called orthotics) for over-pronation. You can buy orthotics at a pharmacy or athletic shoe store or they can be custom-made.
Use a special taping procedure to reduce friction under the kneecap.
Wear a brace, which will give support to your knee and patella.
How long will the effects last?
Patellofemoral pain is often chronic and recurrent. Treatment requires proper rehabilitation exercises that are done regularly.
When can I return to my normal activities?
Everyone recovers from an injury at a different rate. Return to your activities will be determined by how soon your knee recovers, not by how many days or weeks it has been since your injury has occurred. In general, the longer you have symptoms before you start treatment, the longer it will take to get better. The goal of rehabilitation is to return you to your normal activities as soon as is safely possible. If you return too soon you may worsen your injury.
You may safely return to your normal activities when, starting from the top of the list and progressing to the end, each of the following is true:
Your injured knee can be fully straightened and bent without pain.
Your knee and leg have regained normal strength compared to the uninjured knee and leg.
You are able to walk, bend, and squat without pain.
How can I prevent Runner's Knee?
This injury can best be prevented by strengthening your thigh muscles, particularly the inside part of this muscle group. It is also important to wear shoes that fit well and that have good arch supports. Keeping your body in alignment is key for optimal performance in all activities.
If you're experiencing runner's knee and need treatment in the Jacksonville Florida area, let us help!