A rotator cuff injury is located in the shoulder. It is made up of four muscles and tendons that connect the upper arm and shoulder blade. These muscles are responsible for lifting the arm away from the body, internally and externally rotating the arm. Rotator cuff syndrome refers to injury or pain which causes the muscles and tendons to lose function.
Symptoms of a Rotator Cuff Injury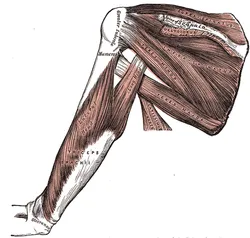 When people are diagnosed with rotator cuff syndrome, their symptoms usually include pain and weakness in the muscle group. The injury usually occurs when the individual is using repetitive motions in actions such as tennis, baseball or painting. Lifting the arms at the shoulder eventually becomes very painful in this condition.
Drug-Free Treatment for a Rotator Cuff Injury
There are many treatments for rotator cuff syndrome. The best recommended course of action for effectively reducing the pain is rehabilitative care and plenty of rest!
The treatment plan most effective will include therapies such as manual therapy and chiropractic care. Chiropractic care combined with manual therapy will provide pain relief, help to restore range of motion in the shoulder, reduce scar tissue formation and improve circulation to the affected area.
When you do massage therapy and chiropractic care together, it will improve your range of motion immensely! While massage therapy helps to soften the tissue, chiropractic care helps to restore the soft tissue and make sure it returns to its normal self, helping to restore full range of motion in the shoulder.
Chiropractic adjustments of the shoulder and areas surrounding will allow for better range of motion.
How Our Jacksonville Chiropractor Can Help
Our chiropractor in Jacksonville, Dr. Vesce, will set you up on a series of other treatments in the office, combined with massage therapy. Treatments such as electrical muscle stimulation, heat pack and/or ice pack therapy, and ultrasound therapy.
These treatments help to reduce the pain and inflammation. As important as these treatments are for lessening the pain, the chiropractor will perform chiropractic manipulation, which will help to remove any joint fixations that can interfere with normal healing and proper motion. These manipulations/adjustments will help to restore normal length and elasticity to the muscles and ligaments.
Chiropractic care for rotator cuff injury usually lasts between six to eight weeks. This allows plenty of time for most patients to eventually get back to their normal activities in due time.
If you've suffered from a rotator cuff injury in Jacksonville, give us a call today to schedule a FREE consultation to see how chiropractic care can help you!