Alberto Castiel, M.D. - Medical Supervisor of Clinic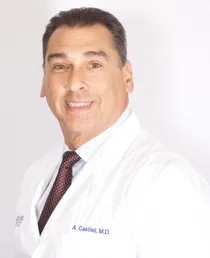 Dr. Alberto Castiel is a Board Certified Family Physician. He is fluent in both English and Spanish. He trained at the University of Florida and has practiced for 20 plus years treating a wide variety of illnesses and conditions. Dr. Castiel is also a Clinical Assistant Professor of Family Medicine at the University of Florida School of Medicine, Florida State University School of Medicine, and Nova Southeastern University School of Physician Assistants.
In his recreational life, he has a passion for all sports especially racquetball, motorcycling, working out, and scuba diving which sparked his interest in Hyperbaric Medicine and Wound Care.
---
Edgar T. Vesce, D.C. - Chiropractic Physician
After high school I attended Anderson University completing the pre-med program and doing my internship in a Chiropractic office. During my successful internship I was guided by Dr. Frank to attend Logan College of Chiropractic in St. Louis, Missouri. During my studies, I also attended many weekend seminars and symposiums with experienced practicing Doctors, advancing my knowledge and expertise outside of the classroom.
In 2005, I graduated earning my Doctorate of Chiropractic, after already receiving two Bachelor Degrees (one in Human Biology and the second in Physical Education). I continue to closely keep my finger on the pulse of the Chiropractic profession and the most recent advances in the health care field by attending several seminars annually.
Using the latest state of the art diagnostic tools and treatment equipment my goal is to get the best results as fast as possible. My unique approach to treating you is based on evaluating your specific condition by performing a through physical examination to diagnose your condition, then tailor a specific treatment plan to improve your quality of life.
EDUCATION & CERTIFICATIONS
DOCTORATE IN CHIROPRACTIC - 12/2005
LOGAN COLLEGE OF CHIROPRACTIC
Teacher Assistant in Radiology Department – 2004 – 2005
BACHELOR OF SCIENCE IN HUMAN BIOLOGY - 12/2003
LOGAN COLLEGE OF CHIROPRACTIC
BACHELOR OF ARTS IN PHYS. EDUCATION - 05/2002
ANDERSON UNIVERSITY
POST DOCTORATE EDUCATION
NATIONAL BOARD OF CHIROPRACTIC EXAMINERS
BOARD CERTIFIED PHYSIOTHERAPY - 12/2005
CERTIFICATE # 62705
NATIONAL BOARD OF CHIROPRACTIC EXAMINERS
BOARD CERTIFIED PARTS I – IV - 12/2005
CERTIFICATE # 111533
AMA IMPAIRMENT RATING CERTIFICATION - 09/2008
KAPLAN SEMINARS by Stanley S. Kaplan, DC, DABCO
CERTIFIED CHIROPRACTIC SPORTS PHYSICIAN - 05/2008
AMERICAN BOARD OF SPORTS PHYSICIANS – PALMER COLLEGE OF CHIROPRACTIC
FASCIAL MOVEMENT TAPING (FMT) - 03/2014
Dr. Steven Capobianco – NATIONAL UNIVERSITY OF HEALTH SCIENCES
DEEP TISSUE LASER THERAPY - 03/2017
Brian Al Pryor, PhD - LITECURE
Spine Research Institute of San Diego - 10/2018
Dr. Arthur Croft, Ph.D., D.C., M.Sc., M.P.H., F.A.C.O. – NATIONAL UNIVERSITY OF HEALTH SCIENCES
ADVANCES IN THE MANAGEMENT OF TRAUMATIC INJURIES – 05/2019
ICA COUNCIL OF APPLIED CHIROPRACTIC SCIENCES
---
Jordan Lowe, D.C. - Chiropractic Physician
After graduating high school, I played four years of college baseball at a D-2 University, California State of San Bernardino. I took a semester off and visited my sister in Alabama and decided to move and finish my undergraduate degree at the University of North Alabama. I continued my growth at UNA as a graduate research assistant. While in school, I worked for a local chiropractor part time and saw the difference we made in patients lives and I decided that I had a passion for the profession and helping people.
I attended Life University in Marietta, GA while also being apart of school clubs sharpening my adjusting skills outside of the classroom. I have found that with chiropractic being such a broad practice its important to find what most aligns with your thoughts and beliefs. I am an evidence-based practitioner, and this helps with my background of research in graduate school. I hold a strong conviction to being up to date on the latest research and what the science is telling us about patient care and what works best for every condition we encounter.
EDUCATION & CERTIFICATION
DOCTORATE OF CHIROPRACTIC-12/2021
LIFE UNIVERSITY
MASTER of SCIENCE-05/2014
UNIVERSITY OF NORTH ALABAMA
Graduate Research Assistant
BACHELOR OF SCIENCE-05/2013
UNIVERSITY OF NORTH ALABAMA
POST DOCTORATE EDUCATION
NATIONAL BOARD OF CHIROPRATIC
EXAMINERS BOARD CERTIFIED PHYSIOTHERAPY- 12/2021
NATIONAL BOARD OF CHIROPRACTIC
EXAMINERS BOARD CERTIFIED PARTS I-IV- 12/2021