Integrative Healthcare Solutions: Your Chiropractor in Jacksonville, FL
Advanced Chiropractic Care Treatments & Techniques
At Integrative Healthcare Solutions, your chiropractor in Jacksonville, FL, we are proud to offer advanced chiropractic care services to patients of all ages. With a one-on-one approach to patient care and years of combined experience, our team is available to treat a variety of muscoloskeletal conditions in our welcoming and relaxed medical office setting. Whether you're suffering from whiplash following an auto accident or dealing with chronic pain from an older injury, we can help you heal without the use of prescription drugs or more invasive treatment options.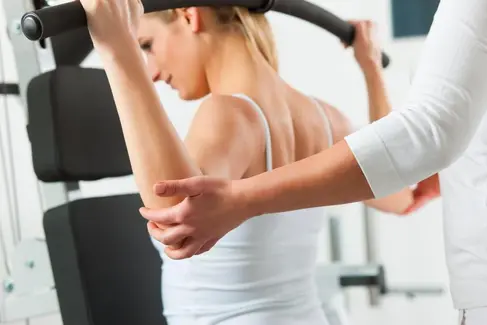 Chiropractic Services Offered at Our Jacksonville Chiropractic Clinic
Our knowledgeable and experienced team offers a wide range of chiropractic care techniques that are ideal for treating a number of musculoskeletal conditions, including:
Back and Neck Pain
Auto Accident Injuries
Sciatica
Headaches and Migraines
Herniated or Bulging Discs
By using spinal adjustments to improve the natural alignment of the spine, our team is able to reduce chronic pain and other symptoms. Depending on the nature and severity of your condition, our team may suggest combining chiropractic adjustments with other treatment options to give you the best results possible and help you to heal more quickly.
Massage therapy is often used in combination with spinal manipulation to provide our patients with a comprehensive chiropractic experience. Massage therapy techniques can range from a light stroking sensation to deep pressure and is designed to relieve tension in the muscles, skin, tendons and ligaments. Some of the most common types of massage therapy include Swedish, Deep Tissue, Sports Massage and Trigger Point massage. Each unique type of massage treatment focuses on a different method or area of the body to provide pain relief, improve circulation, reduce swelling and relax sore muscles.

Injury Rehabilitation and Corrective Exercises
To help our patients heal more efficiently, we often recommend corrective exercises that can be completed outside of the office. This type of injury rehabilitation can typically be completed by patients of all ages and is safe to practice on your own.
Through a series of repetitive movements, you can correct a specific dysfunction in the spine and surrounding areas while improving your posture and gradually increasing your overall activity level. Some of the other benefits of corrective exercises include pain reduction, decrease chance of aggravating an injury, enhanced athletic performance, improved balance and increased strength. Our doctors will work closely with you to tailor an injury rehabilitation plan that meets your specific needs and make sure that you feel comfortable completing your corrective exercises on your own.
This non-surgical spinal decompression option is a passive therapy option favored by many in the chiropractic care field. Through the use of a motorized device, our doctors are able to gently and gradually stretch and relax your spinal discs. This type of stretching of the spine safely repositions and changes the force of the spine to relieve pressure from the spinal discs. Spinal decompression therapy is an ideal treatment option for patients who are suffering from herniated or bulging discs, as it can help the discs to retract and take pressure off of your nerves and other structures in the spine.
The treatment is also great for promoting the movement of water, oxygen and other nutrient-rich fluids to the spinal discs, encouraging them to heal. There are 3 different phases involved in spinal decompression therapy, including:
Phase I – The initial non-surgical decompression treatment.
Phase II – The stabilization of supporting structures via rehabilitation exercises that strengthen the muscles that support the spine and ensure successful future treatments.
Phase III: The final phase is designed to further strengthen and stabilize. With the introduction of core rehabilitation exercises and continued decompression treatment, the spine can be brought back to full health.
Other conditions that can benefit from spinal decompression treatment include back and neck pain, sciatica and degenerative disc disease.
The physiological process of how this piece of equipment works is called Photobiomodulation. Our machine is unique in that the laser sends out multiple beams of varying wavelengths, which most others do not. The wavelengths are between 810 nanometers to 980 nanometers allowing the light photons from the laser to penetrate deep into the body for maximum absorption of the laser photons. When absorbed into the cell this wavelength affects the mitochondria to produce an important product called adenosine tri-phosphate (ATP).
By stimulating this action the result will speed the healing and overall health of the tissue it is penetrating, whether it is nerves, intervertebral discs, muscles, tendons, ligaments, etc. Also, the laser forces the cells to release nitric oxide (NO) which is a vasodilator. This specific action will increase blood flow therefore bringing oxygen, sugars, salts and other vital nutrients important for healing and increased recovery while removing cellular waste.
Lastly, the cells stimulate reactive oxygen species (ROS) which is another important factor for healing and recovery. All of these mechanisms from photobiomodulation equate to a reduction in pain, a reduction in inflammation and the acceleration of healing process.
Most conditions require anywhere between 6-10 treatments and each treatment session only lasts about 5-10 minutes
This is another passive treatment option that uses high-frequency sound waves to penetrate the surface of the skin into the soft tissue below. With a vibration capability of one million times per second, therapeutic ultrasound creates a heat response that is easily absorbed by the ligaments, tendons, fascia and any scar tissues in the body. These ultrasound waves also cause the surrounding tissues to vibrate and therefore break down any unhealthy calcium or hard tissue deposits that may be contributing to your condition.
Additionally, the increase in heat caused by the ultrasound is also effective in increasing the extensibility of the ligaments, tendons, fibrous joint capsules and scar tissue to reduce pain, muscle spasms, increase blood flow, reduce swelling and promote a more healthy healing process.
One of the greatest benefits of this type of chiropractic treatment is the fact that it can dramatically reduce healing times of certain soft tissue injuries that may keep patients sidelined from work or sports activities. Other common conditions that can be treated successfully with therapeutic ultrasound include non-acute joint swelling and tendinitis.
This passive and non-invasive therapeutic treatment option is designed to aid in the relief of inflammatory pain, reduce muscle spasms and boost the acceleration of soft tissue healing. Our chiropractic care team finds interferential therapy to be especially effective in treating a variety of common conditions, including:
Circulatory and Muscular Disorders
Joint Stiffness
Edema
Inflammation
And More
Interferential therapy works by delivering small electrical currents to specific areas of the body through electrode patches. This allows for a combination of low and high frequency impulses to travel into the soft tissues, where the electrical currents are able to create chemical, thermal and physiologic responses. Muscle strains, ligament sprains and muscle spasms all respond very well to this type of treatment.
During the treatment process, patients will feel a slight "tingling" sensation as the electrical currents activate natural endorphins, providing fast pain-relief. Additionally, interferential therapy can help to reduce inflammation, increase blood circulation and stimulate hormones that help the body heal faster.
Intersegmental spinal traction therapy is a non-invasive treatment option that induces passive mobilization into the vertebral spinal discs and joints. By gently stretching out the spinal ligaments and discs, this treatment is effective in increasing mobility and improving the circulation of spinal fluids. Ideal for gently reestablishing the normal range of motion of the spine, intersegmental traction therapy is also great for reducing muscle spasms and relaxing the muscles surrounding the spine.
Additionally, a variety of different patients can benefit from this treatment option as it works to restore proper joint movement, circulation and mobility by gently elongating the postural muscles of the spine in a comfortable manner. Other benefits of intersegmental spinal traction include:
Reduces muscle spasms
Relaxes spinal muscles
Promotes the recovery and healing process
Increases mobility and blood flow
Stretches ligaments and muscles gently and safely
Cupping is Traditional Chinese Medicine that was developed over 2,000 years ago. Cupping is used to promote blood flow and heal the body. It is most commonly used to relieve pain and stiffness in the body specifically the muscles. Cupping is to enhance circulation, pull toxins out of the body and removes "heat" which helps relives sore muscles. By placing a glass or a plastic cup onto the skin, the therapist creates a vacuum in the cup which draws the skin, muscle, and fascia up into the cup.
Cupping Benefits
Promotes circulation
Provides a feeling of relief from physical and emotional tensions
Remove toxins
Softens tissues to regain elasticity
Reduces inflammation
Helps the nervous system
Detoxification
Relives headaches and migraines
Our office is proud to be a Durable Medical Equipment (DME) accredited facility through the Board of Certification/Accreditation (BOC). This means we can accept any patient with a prescription for bracing or equipment, such as a back brace, neck brace, knee brace, carpal tunnel syndrome wrist splint, elbow brace and many others.

Experience the Difference at Integrative Healthcare Solutions
Chiropractic care is the ideal way to find relief from a variety of musculoskeletal conditions including back and neck pain, auto accident injuries, headaches and migraines, sciatica, pinched nerves and chronic pain. By combining traditional chiropractic spinal adjustments with a wide range of other non-invasive treatments, we are able to provide each of our patients with a treatment plan that is tailored to their unique medical condition. As a prescription drug-free treatment option, chiropractic care can help you manage your pain and heal properly without the side effects of medication.
As your choice chiropractor in Jacksonville, FL since 2005, we work hard to provide each of our patients with the most advanced chiropractic care services. By utilizing sate-of-the-art equipment and maintaining flexible hours of operation, we are better able to meet the diverse needs of our patients in the greater Jacksonville area. We are proud to offer evening appointments to accommodate your busy lifestyle and we also accept most major medical insurance and all auto insurance plans. However, we understand that some patients may prefer to pay out-of-pocket for treatment and offer affordable cash payment plans as well.
Ready to discover the healing power behind chiropractic care with the help of your chiropractor in Jacksonville? Call (904) 372-0623 or visit the experienced team at Integrative Healthcare Solutions online today to schedule an initial appointment. Our friendly and knowledgeable team is ready to help guide you along the path towards a healthy and pain free life!