Carpal Tunnel Treatment in Jacksonville
When you experience pain in your hands, wrists or palms, you may have concerns about the discomfort and the cause of your pain. While some problems have a clear cause or injury, carpal tunnel may not be obvious until you notice the symptoms of the pinched nerve. At Integrative Healthcare Solutions, we offer treatments to help with carpal tunnel and the symptoms that may develop.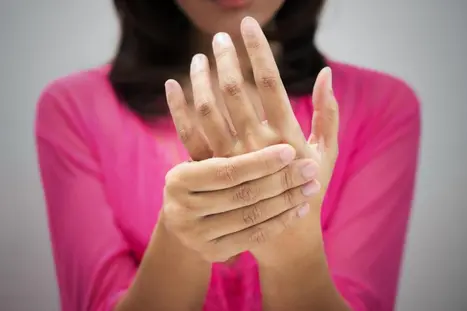 What is Carpal Tunnel Syndrome?
Carpal tunnel syndrome refers to pressure on the median nerve in the wrist. The pressure may relate to an entrapped nerve, an injury to the area or inflammation that puts excess pressure on the nerve and causes specific symptoms.
Since the nerve impacted by the pressure is the median nerve, you will usually feel discomfort toward the thumb and pointer finger, as well as the surrounding areas of the hand. It may also impact your wrist and you may notice pain throughout the entire area in certain situations. Depending on the severity of your symptoms, a chiropractor develops a plan of action to help with the discomfort you experience.
Symptoms of Carpal Tunnel
The signs and symptoms of the pressure on your nerve depend on the amount of pressure on the area. Mild cases of carpal tunnel may be overlooked because you might not notice the early symptoms. In many cases, you will notice a severe case of the problem when it starts causing obvious signs and concerns.
Common signs or symptoms that you may notice include:
Tingling in the hand and wrist
Numbness, particularly to the thumb, pointer finger and middle finger of the hand
Pain in the hand and wrist
Weakness in the hand, particularly when picking up items or using small objects in your hands
Pain that radiates up to the elbow in certain situations
Discomfort that occurs at night, but may fade throughout the day or after shaking out your hand
In most situations, you will notice the discomfort at night or shortly after waking up. When the symptoms worsen, it may relate to the amount of pressure on the nerve. The discomfort may fade when you shake out your hand or it may worsen over time until you notice the symptoms during the day. The key factor that helps you determine the type of complication in your hands is the location of the numbness, tingling and pain. It impacts the thumb, pointer and middle finger of the hand rather than the pinky. If you notice the symptoms over the entire hand or in the pinky, then you may have a pinched nerve at a different location or more than one pinched nerve in your arm.
How Does It Occur?
The way the problem develops ultimately depends on your situation. It may relate to a variety of situations and factors, so it ultimately depends on your lifestyle. By understanding the factors that contribute to carpal tunnel syndrome, you can determine when to seek treatment from a professional.
Common causes of the pinched nerve include:
Certain physical sicknesses or ailments, such as diabetes or arthritis
Injuries to the area, particularly in an accident that harms your wrist
Repetitive injuries, such as typing or playing the piano for long periods of time and over a period of several years
Pregnancy, which may cause inflammation, swelling and similar symptoms in different areas of your body, including your wrists
Excess body weight
Additional factors in your lifestyle, such as using tools that cause vibrations in your hands
In many cases, the problem develops as a result of multiple factors and situations. It does not usually have a single clear cause, so a treatment plan must evaluate the underlying factors and focus on addressing several risks that may contribute to your symptoms.
How We Diagnose the Condition
When you seek treatment from your chiropractor in Jacksonville, FL for the discomfort in your hands, we may use a variety of tools to determine the underlying cause of your pain or symptoms. At our clinic, we discuss your symptoms before we look for the cause of your discomfort. Since the location of the numbness or tingling helps us determine the exact nerve causing a problem, we ask questions about your experience.
After determining the risk and the symptoms, we use an x-ray and similar tools to evaluate the area. We may notice a fracture or broken bone, as well as inflammation in a specific area, when evaluating the underlying causes of the discomfort. Since we focus on identifying the causes of your symptoms, we may recommend different treatments to help with your symptoms in different situations. For example, a broken bone may require medical care while inflammation from a sprained muscle may benefit from gentle manipulation and icing the area.
What Treatments Help With Carpal Tunnel?
Carpal tunnel syndrome stems from a variety of factors, so the treatments that help with your situation may vary significantly. At our clinic, we offer a variety of different treatments after evaluating the injuries or causes of your discomfort.
Each plan of action focuses on your specific symptoms and needs. We may use chiropractic care to improve the alignment of your wrist and the joints in the wrist. We also use massage therapy to help reduce tension in the muscles that may contribute to the pressure on your nerve. A chiropractor at Integrative Healthcare Solutions may also recommend rehabilitative solutions to help with the discomfort and improve your ability to easily move your hand and wrist.
Rehabilitative treatments focus on exercises and corrective solutions that help alleviate the symptoms by reducing the pressure on your nerves. We may suggest different strategies and exercises, as well as stretches and movements, based on your specific needs. We also recognize that the right treatments may vary based on your wrist, injuries and the underlying factors contributing to your symptoms.
We focus on a treatment plan that works with your specific needs after evaluating your situation. We recognize that the underlying cause of the pressure on your nerves may vary based on your health, body and lifestyle. That is why we develop a personalized treatment plan to help with your goals.
Studies into Treatments
Chiropractic care shows a positive impact on carpal tunnel recovery. Research into the discomfort and symptoms shows that the treatment has a lasting impact on your hand and wrist that may persist for several months. It may take a few treatments with a chiropractor to address the causes of your symptoms, but you should see positive changes after a few treatments. Studies into the impact of chiropractic care on carpal tunnel or related concerns also show that individuals have greater mobility in the joints when compared to individuals who do not seek chiropractic care and treatment for the symptoms.
Why Seek Treatment from Your Chiropractor in Jacksonville, FL
The reasons you want to seek treatment from your chiropractor in Jacksonville, FL ultimately depend on your situation. We may recommend different treatments after evaluating your wrist and the area with an ultrasound or x-ray, as well as asking you to move different fingers, your wrist and your hand.
You will want to consider treatment from a chiropractor when you notice chronic or continued pain that seems to worsen over time. You also want to consider treatment after an accident that may harm your wrist and hands. Whether the pain stems from an auto accident or repetitive motions, we recommend different treatments to help with your health and recovery. We develop a personalized plan of action based on your symptoms and the reasons you have pressure on your wrist.
Chiropractic care at our clinic recognizes that the wrist and elbow connect to the shoulder and spine. We may use a variety of adjustments to the wrist, elbow and even the spine to help with your symptoms. We may also suggest changes to your lifestyle to address factors related to chronic health conditions, illnesses or a pregnancy. The key reason to consider chiropractic care for carpal tunnel is the possibility of identifying the cause of your discomfort and then developing a plan of action to help with your goals.
Contact Your Jacksonville Chiropractor Today
Carpal tunnel impacts your lifestyle by interfering with your ability to easily move and use your hands. At our clinic, we offer treatments based on your situation and goals to help address your symptoms. To learn more about our treatment process or for an appointment, call (904) 372-0623 today.