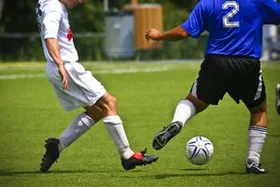 Bursitis is the inflammation of a bursa sac that is positioned around joints. The purpose of having bursa sacs is to decrease friction and improve function. If bursitis is not treated properly, this condition can become extremely painful and can also have lasting effects on your overall health, movement and function of the body itself. If you have Bursitis you can probably agree that you may have poor posture, tight muscles, and irritated nerves. Did you know that Chiropractic treatment and Physical Therapy is extremely effective and efficient?
When you live with this condition it often causes you to develop various misalignments in muscles and joints, which is the result of all of the pain and discomfort you are having. This will eventually lead to an uneven wear and tear in the joints which will cause your muscles to stiffen. Chiropractic treatment can manipulate the joints and align them so that the bursa can heal correctly.
Here at Integrative Healthcare Solutions, Dr. Vesce will start you off with an initial exam. This exam will include questions about your symptoms, questions about work and activities that can cause bursitis, digital x-rays, orthopedic testing as well as neurological tests. This thorough examination takes about 30 minutes long and is summed up with the perfect treatment plan for you! Dr. Vesce will perform manual adjustments to your spine and extremity joints. These manual adjustments are a controlled, sudden force which helps to improve the range and quality of motion in your body.
Along with the manual adjustments performed, there are many other treatment plans in office that we use. Since bursitis can be difficult, these alternative remedy choices can efficiently manage the condition:
Manual Therapy (Massage/Trigger Point Therapy)
Kinesiotaping (Strapping Tape)
Ultrasound Therapy (US)
Electrical Muscle Stimulation (EMS)
Physical Therapy and stretching
All of which are available in our Jacksonville Beach office.
Chiropractic care and treatment can take up to as long as 10 weeks. While most patients get immediate results in less than 10 weeks, it is important to maintain treatments until you see a long lasting effect and full motion and function in your spine and extremity joints. Chiropractic care, better than any medication, aims to alleviate the pain and the reoccurrence of the ailment for good.