Jacksonville Tennis Elbow & Golfers Elbow Treatment

Many people have heard of the term "Tennis Elbow". Well, it doesn't sound too excruciating right? People who are diagnosed with this injury would say otherwise! It is very common in tennis players and golfers (also known as "golfers elbow"); however, anyone performing a constant repetitive motion can get Tennis Elbow. Integrative Healthcare Solutions specializes in treating sports injuries including Tennis Elbow and Golfer's Elbow.
What is Tennis Elbow?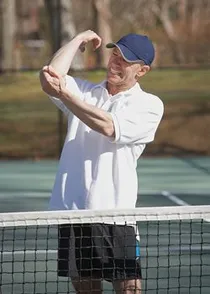 The medical term for "Tennis Elbow" is called Lateral Epicondylitis. Lateral Epicondylitis consists of pain at the lateral humeral epicondyle which is the outside part of the elbow when you look down at your arm. The affected part of the arm is the common extensor tendon and it becomes painful with overuse of the wrist extensor muscles and poor eccentric control. This common extensor's main function is the extend the wrist. These repetitive, forceful movements can be caused by an array of activities.
Symptoms of Tennis Elbow
Most patients who have tennis elbow usually have persistent elbow pain and forearm pain. These patients have a hard time gripping, carrying, or lifting everyday objects such as a coffee cup, water bottle, or even a toothbrush. Sometimes the simple act of straightening out their arm can be painful for them. In more severe cases, patients may feel numbness or a shooting pain into their hands and neck.
This pain that the patients feel is due to the inflammation of the tendon and bony protuberance, which is located at the outer part of the elbow.
Symptoms of Tennis Elbow may include:

- Wrist weakness
- Pain while lifting/bending the arm
- Pain when gripping, lifting, or carrying an object
- Elbow tenderness
- Continuous discomfort for 3 weeks or several years if gone untreated
Our Approach: Treatment of Tennis Elbow in Jacksonville
It is important to let the wrist rest ad much as possible, to reduce any inflammation.
Use ice for the first 2 to 3 days or longer, if needed. Ice is very effective within the first few days that you notice the pain.
If the problem persists a tennis elbow brace or strap may be helpful for support.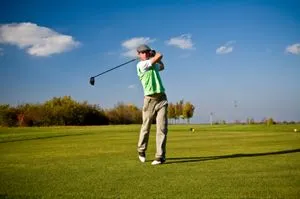 These are the steps you should take when you first notice the pain of Tennis Elbow. Here at Integrative Healthcare Solutions, our Jacksonville sports chiropractor, Dr.Vesce will put you on a treatment plan to help resolve the persistent pain. First, you will start off with a series of small therapeutic exercises to start strengthening the muscles of the arm and wrist.
Also, we will alternate hot/cold packs to the area to avoid any more inflammation. An advantage we have is that you can seek treatment with our on-site massage therapist that will host a 30 minute massage as part of your treatment plan to stretch, relax and increase circulation to those muscles/tendons that are affected in your elbow. Dr.Vesce will also perform an extremity adjustment at the end of your daily therapies to shift the bones back into alignment to subside your pain.
If you are in the Jacksonville Beach area and are experiencing Tennis Elbow pain, or need any other chiropractic help or advice please give us a call to make an appointment.
Come see your local chiropractor in Jacksonville Beach, Dr.Vesce, at Integrative Healthcare Solutions. Call us today to schedule an appointment!