Foot Pain (Plantar Fasciitis)

Are you experiencing foot pain in Jacksonville, FL? Integrative Healthcare Solutions is here to help.
What Causes Foot Pain?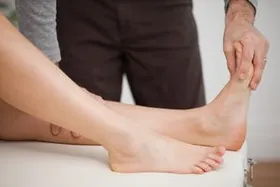 One of the most common causes of foot pain is called Plantar Fasciitis, pronounced plant-are fash-e-I-tis. It is a condition when the plantar fascia, which is a thick band of muscles and tendons on the bottom part of the foot, become inflamed.
The pain is described as sharp and stabbing and is felt around the heel and middle part of the foot. It is usually the worst in the morning when first getting out of bed and walking on your feet. This creates the contraction and relaxation of the muscles and tendons which, when not "warmed up", can be very painful. Also, the pain can increase when standing or walking for long periods of time as well as standing up after sitting for a while.
The population most commonly affected by this are runners, individuals who are over-weight and those who wear shoes that are unsupportive, however this diagnosis is not limited to just this group.
The types of treatment to help reduce the pain and inflammation from plantar fasciitis are ultrasound therapy, electrical muscle stimulation therapy combined with cryotherapy, strapping tape, stretches,exercises and chiropractic manipulation to tarsal bones that restricted and not moving properly.
If you are experiencing foot pain in Jacksonville, FL due to Plantar Fasciitis, please call our Jacksonville Beach chiropractic office today for an examination and proper diagnosis!