Welcome to Integrative Healthcare Solutions, Your Leading Atlantic Beach Chiropractor !
If you need a local chiropractor in Atlantic Beach, FL, Dr. Vesce and the entire Integrative Healthcare Solutions staff encourages you to join the thousands of patients that have experienced relief from neck pain, back pain and more through chiropractic adjustments. We've been seeing patients throughout Atlantic Beach since 2005.
Our advanced and drug-free approach to healthcare has a distinct purpose: to heal patients in the Atlantic Beach community from neck pain,back pain, or whatever your ailment may be. Whether this is your first chiropractic visit, or you have received treatments in the past, our far from ordinary practice is one your will want to tell all of your friends and family about!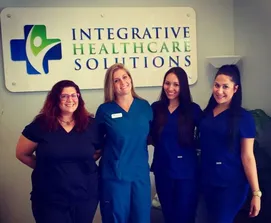 Ourchiropractic clinic based in Jacksonville Beach, FL offers our patients a multitude of therapies including: electro-therapy, ultrasound, traction, spinal decompression, massage, and chiropractic adjustments. So whatever your ailment may be, come visit our beach office conveniently located minutes from Atlantic Beach, because your health is our priority! What makes Integrative Healthcare Solutions the perfect chiropractic destination in Atlantic Beach, Florida?
Conveniently located
Early Morning and Evening Appointments
Affordable Care Plans
Licensed Massage Therapists
Certified Chiropractic Physicians
No Insurance Requirements
Free Consultations
What do our patients think?
I was having a lot of back pain from playing beach volleyball & surfing. Dr. Vesce & staff are the best when it comes to chiropractic care at the beaches." – R. M.
Directions to our Chiropractic Clinic in Jacksonville Beach from Atlantic Beach
Head East on Atlantic Blvd/FL-10, turn right onto 3rd street N/FL-A1A, turn right onto Beach Blvd/US-90. Our office is on the right side of Beach Blvd. right before Penman Rd.
We are looking forward to greeting you in the office and bringing you long-lasting pain relief!