Edgar T. Vesce, D.C.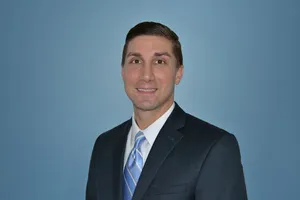 After high school I attended Anderson University completing the pre-med program and doing my internship in a Chiropractic office. During my successful internship I was guided by Dr. Frank to attend Logan College of Chiropractic in St. Louis, Missouri. During my studies, I also attended many weekend seminars and symposiums with experienced practicing Doctors, advancing my knowledge and expertise outside of the classroom.
In 2005, I graduated earning my Doctorate of Chiropractic, after already receiving two Bachelor Degrees (one in Human Biology and the second in Physical Education). I continue to closely keep my finger on the pulse of the Chiropractic profession and the most recent advances in the health care field by attending several seminars annually.
Using the latest state of the art diagnostic tools and treatment equipment my goal is to get the best results as fast as possible. My unique approach to treating you is based on evaluating your specific condition by locating subluxations, or misalignments, and correcting them to improve your quality of life.
EDUCATION & CERTIFICATIONS
DOCTORATE IN CHIROPRACTIC - 12/2005
LOGAN COLLEGE OF CHIROPRACTIC
Teacher Assistant in Radiology Department – 2004 – 2005
BACHELOR OF SCIENCE IN HUMAN BIOLOGY - 12/2003
LOGAN COLLEGE OF CHIROPRACTIC
BACHELOR OF ARTS IN PHYS. EDUCATION - 05/2002
ANDERSON UNIVERSITY
POST DOCTORATE EDUCATION
NATIONAL BOARD OF CHIROPRACTIC EXAMINERS
BOARD CERTIFIED PHYSIOTHERAPY - 12/2005
CERTIFICATE # 62705
NATIONAL BOARD OF CHIROPRACTIC EXAMINERS
BOARD CERTIFIED PARTS I – IV - 12/2005
CERTIFICATE # 111533
AMA IMPAIRMENT RATING CERTIFICATION - 09/2008
KAPLAN SEMINARS by Stanley S. Kaplan, DC, DABCO
CERTIFIED CHIROPRACTIC SPORTS PHYSICIAN - 05/2008
AMERICAN BOARD OF SPORTS PHYSICIANS – PALMER COLLEGE OF CHIROPRACTIC
FASCIAL MOVEMENT TAPING (FMT) - 03/2014
Dr. Steven Capobianco – NATIONAL UNIVERSITY OF HEALTH SCIENCES
DEEP TISSUE LASER THERAPY - 03/2017
Brian Al Pryor, PhD - LITECURE
Spine Research Institute of San Diego - 10/2018
Dr. Arthur Croft, Ph.D., D.C., M.Sc., M.P.H., F.A.C.O. – NATIONAL UNIVERSITY OF HEALTH SCIENCES
ADVANCES IN THE MANAGEMENT OF TRAUMATIC INJURIES – 05/2019
ICA COUNCIL OF APPLIED CHIROPRACTIC SCIENCES
---
John D. Foster, M.D.
John D. Foster, M.D. has been practicing medicine and helping patients since 1978 after graduating from the prestigious McGill University medical school in Montreal Cananda. He was born in Syracuse, New York and spent time growing up in both England and Canada. After completing his residency at the University of Western Ontario in London, Ontario, Canada he moved to West Virginia where he practiced for 2 years. Then he moved here to Jacksonville, FL spending the rest of his career here. Over several decades Dr. Foster has gained invaluable experience working with many different types of patients in various settings. Most of his time was spent in hospitals specializing in emergency medicine. After accumulating 26 years in emergency medicine, including 5 years in a trauma center, he then began to focus on family medicine in private practices. Dr. Foster brings his experience and draws on his knowledge of the human body to successfully treat many different injuries and health conditions quickly. He examines and provides care for patients of all ages at all stages of life. Being board certified in family medicine he helps many patients with everyday ailments such as cold, flu, respiratory infections and many others. When necessary if your condition requires a referral to a specialist he will recognize the need quickly and make the referral for you.
Dr. Foster speaks multiple languages, which includes Japanese and French. He also trained in Jiu Jitsu until he was unable to continue due to injuries. Now he spends his free time ringside at local mixed martial arts matches and boxing matches. One of his proudest moments was delivering his own daughter - with the obstetrician standing behind him. It was his 117th delivery.
---
William Levi Beasley, D.C.
Dr. William Levi Beasley is a native of Douglas, Georgia. He attended Valdosta State University where he obtained his bachelor's degree in Exercise Physiology. After graduation, he began his career in cardiac rehabilitation and witnessed the positive natural effects diet and exercise have on the human body. With his desire to influence more people, Dr. Beasley decided to attend Palmer College of Chiropractic in Port Orange, Florida. There he graduated Salutatorian of his class, earned the Academic Excellence award, and the prestigious Dr. James Buerkle Award presented to the graduating doctor who most exemplifies the virtues of compassion, strong leadership, commitment to service, and passion for the chiropractic profession. While at Palmer, Dr. Beasley took many extra classes to further his learning and expertise in many different chiropractic techniques to ensure his ability to treat a wide variety of complaints with the technique that best fits each patient.
Dr. Beasley is an avid outdoorsman, and during his free time enjoys going to the beach and spending time with his girlfriend and his boykin spaniel, Rio.
Dr. Beasley is looking forward to sharing his passion for chiropractic care with others and is excited to serve his community.
---