Integrative Healthcare Solutions = Your Medical, Therapy & Chiropractor Office in Jacksonville, FL

Back Pain? Neck Pain? We Can Help!
Our Jacksonville medical and chiropractic physicians understand the aches and pains, bumps and bruises life can bring. Whether you have a desk job and work in front of a computer most of the day or have a more physically strenuous job, our daily lives can be tough on our bodies.
If you're in need treatment or therapy from a medical doctor or a chiropractic doctor in Jacksonville, FL to alleviate neck, back, shoulder, muscle, joint, ligament, or bone pain, Integrative Healthcare Solutions can help.
Our Services
Medical Care
Physical Therapy
Why Our Jacksonville Health Care Practice is Different
1. Serving the Jacksonville community since 2005: Dr. Edgar Vesce and his health care team of medical staff and chiropractors have been serving the residents of Jacksonville, Florida and surrounding area since 2005. Located in the heart of Jacksonville Beach on Beach Blvd, we are committed to your health through natural care.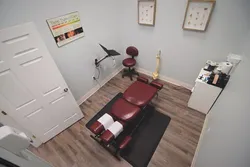 We have a high success rate treating many different conditions, including
Auto Accident Injuries
Whiplash
Neck and Upper Back Pain
Lower Back Pain
Shoulder & Hip Joint Pain
Sciatica
Carpal Tunnel Syndrome
Migraines & Tension Headaches
Disc injuries
Sports Injuries
Pinched Nerve
and many more
2. State-of-the-art Equipment: Using state of the art diagnostic tools, our dynamic clinic offers first class service and stellar patient health care through many forms of treatment including chiropractic care, medical care, massage therapy, class IV cold laser therapy, rehabilitation exercises, decompression therapy and more.
3. Evening Appointments Available: We service the community with evening appointments so that you can work during the day.Providing pain relief in Jacksonville, FL since 2005, we strive to get the best results at your convenience to bring you back to health!
4. Most Insurance Plans Accepted: Our office accepts Medicare, most major medical health insurance plans and all automobile insurance plans. If you do not have health insurance coverage, we have affordable cash plans available too!

Health Benefits That Come With Regular Jacksonville Chiropractic Visits
Some of the benefits of ongoing chiropractic care include a stronger immune system, decreased drug dependence, fewer headaches, less chronic pain, and more! Chiropractic care can also lead to a reduction in both inflammation and pain. It can also release built up tension, increase flexibility, and promote general well-being.
It may sound strange, but research has shown a direct correlation between regular chiropractic care and a greater immunity against disease. Since adjustments have a direct impact on your nervous system, a properly aligned spine will help your body and its organs function at their very best. This in-turn will decrease your chances of suffering from illness and chronic disease.
Also, if your nervous system can easily send and receive messages free from interference caused by subluxations, it means your immune system will be functioning at its best; this can help you stay healthy all year long! And, while this may not be one of the first things you think of when chiropractic care comes to mind, but the truth is studies have found chiropractic care can help to increase lung capacity. By increasing your lung capacity, it reduces your risk of heart attack, stroke and other cardiovascular issues that may be life threatening.
Natural, Drug-Free Treatment
Another upside is that no one wants to take more pharmaceuticals than necessary, and with repeated chiropractic care sessions, drug dependency has been shown to decrease. Pain patients tend to be quite familiar with pain medications, both prescription and over-the-counter, but chiropractic care can provide a drug-free pain relief approach.
It's a great option for anyone interested in reducing medication use because chiropractic doctors utilize a drug-free approach since they treat the whole body as a holistic system. Chiropractors focus less on symptoms and more on maintaining a healthy body; choosing natural over pharmaceutical. This is the foundation for their approach to patient care.
Although there are a variety of techniques that chiropractors use to treat their patients, many report few, if any, side effects from their treatments verses medications. For a majority of patients, this is one of the most important benefits of chiropractic care. Unlike prescription and over-the counter medications, chiropractic care can address root causes and encourage long-term health.
Dr. Edgar Vesce
Jacksonville Beach Chiropractor | Integrative Healthcare Solutions |
1313 Beach Blvd Suite C
Jacksonville Beach, FL 32250